Huge Payoffs For Managers Who Manage Performance Effectively
What's the Payoff for Using Performance
Management?
As you read more about performance management, you will realize that it takes time and effort—perhaps time and effort you would rather use for other things. What manager wants more work? The reality is that it does take time and effort, but the time and effort are an investment. We need to turn our attention to how that investment brings a return.
When performance management is used properly, there are clear benefits to everyone—managers, employees, and the organization. Let's take a look at those potential benefits.
For Managers
My favorite question to ask managers is, "What things about your job drive you nuts, the things that you take home at the end of the day?" Here are some of their answers:

• feeling the need to micromanage and to be involved in everything to make sure it goes right
• never having enough time in the day
• employees who are too timid to make decisions they could make on their own
• employees' lack of understanding of their jobs, particularly the whys of the jobs
• staff disagreements about who does what and who is responsible for what
• employees giving too little information to managers when information is important
• finding out about problems too late to prevent them from growing
• poor-quality performance
• employees repeating the same mistakes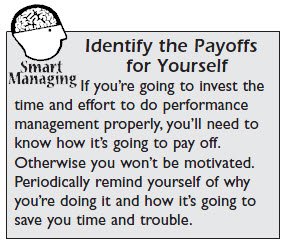 What common threads can we find in these complaints? Let's start with micromanaging. One reason why managers feel the need to be involved in everything is they aren't confident their employees are going to do the job the way the manager wants. Wouldn't it make more sense to make sure staff understand what's needed, rather than trying to be involved in everything?
How about not having enough time? When employees don't have a clear idea of what their jobs are, how they should be done, and why, that creates more work for managers.
Decisions that employees could make end up on the manager's desk. Little problems that should never involve the manager keep coming up if employees don't understand their jobs well enough to feel they can make good decisions.
What's the common thread? Lack of clarity, lack of shared understanding, and not being on the same wavelength create more work.
What about staff not giving important information to the manager when it's needed? Managers need to know about problems before they get bigger, so they can work to avoid difficulties rather than run around "fighting forest fires."
Besides, not having information can be very embarrassing when your boss asks you how something is going. What's the common thread here?
Common understanding of what is important and not important.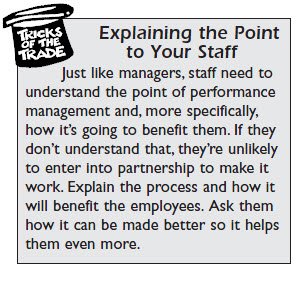 Finally, let's turn to poor-quality performance and the repetition of mistakes. If we have no way of helping employees learn to be better performers, it's more likely they're going to repeat mistakes and achieve less than they might. If we have no way of diagnosing why mistakes happen, how can we hope to prevent them? We can't—and it's a pretty sure thing that the mistakes are not going to go away on their own.
While performance management cannot solve every problem, it has the potential to address many of these common management concerns. Pay special attention to the word, potential.
If you use it properly, invest the time, and create cooperative relationships, performance management can:

• reduce your need to be involved in everything that goes on (micromanagement)
• save time by helping employees make decisions on their own by ensuring they have the necessary knowledge and understanding to make decisions properly.
• reduce time-consuming misunderstandings among staff about who is responsible for what
• reduce the frequency of situations where you don't have the information you need when you need it
• reduce mistakes and errors (and their repetition) by helping you and your staff identify the causes of errors or inefficiencies

To summarize, performance management is an investment up front so that you can just let your employees do their jobs. They'll know what they're expected to do, what decisions they can make on their own, how well they have to do their jobs, and when you need to be involved. This will allow you to attend to tasks that only you can address. That saves time.