When HR gets in the way of making performance management work, what then?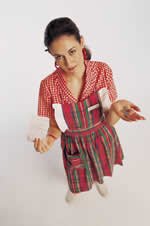 Often you have to go around HR to manage performance effectively. While HR attracts a lot of good, well meaning, smart people, it also has its share of paper-pushers and bureaucrats who lose sight of the point of all the paper pushing. Worse, though it takes well intentioned people and frustrates the heck out of them, and in too many cases, takes those well meaning, smart people and makes them into paper-pushers.
When most of your job involves dealing with records, pay levels, job descriptions, hiring, benefits administration, labor relationships and so on, you tend to become much more oriented to policies, procedures and deadlines than you are to the point of all of it. HR culture is significantly affected by this, and since HR is always responsible for performance management and appraisal, the combination of lack of line authority and the culture means that we often get really poor performance management systems. HR is both a product of HR culture, and a force that keeps the HR culture dominant.
Of course there are exceptions, but the structure of organizations and lack of authority push the really great HR people to give up, or worse, move on.
Indeed HR departments get stuck between a rock and a hard place, and often the compromises made ensure poor management systems. Until organizations change their structures, and/or the HR culture changes, that's a reality most of us have to live with.
Moving "Around" HR
When faced with HR obstinacy and inflexibility, managers need to push harder to encourage HR to enable them to do their jobs. At minimum, to get out of the way. The best way to do that is start from a place of understanding HR's constraints within your organizations. Seek to understand first, than advocate for flexibility.
From Performance Management 2/E (Briefcase Books Series)