Future Orientation And Problem Solving Drive Employee Review Successes
Two related factors often determine whether managers and companies actually succeed in improving performance using various performance review techniques.
Past vs. Future Orientations
Performance reviews tend to fail, to cost money rather than add value, when their primary focus is on what's happened in the past. The explanation is really quite simple. What's done is done. Nothing from the past can be changed. If we wish to influence performance to boost success, we need to look at the past, learn from it, and apply what we've learned to the present in order to influence the future. Someone once said, "You don't drive by looking in the rear-view mirror, so why do you manage that way?" That's a darned good question.
On the other hand, where manager and employee analyze the past to identify patterns and causes of reduced performance and work together to remove those causes in the future, performance improvement occurs. Don't dwell on the past. Use the past to inform the present.
Blaming vs. Problem Solving
Maybe it's part of human nature, but we tend to want to blame someone for things that go wrong. You see this everyday in the news, sports, interpersonal relationships, and politics: a huge percentage of the discussion on issues centers on finding fault when something goes wrong.
The blaming process tries to isolate who is at fault.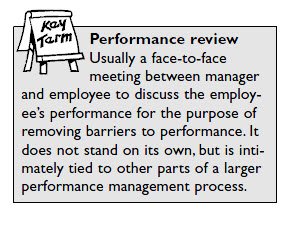 Problem solving is different. Its major purpose is to identify why something went wrong, and not necessarily who caused the problem. On some occasions, the who becomes relevant, but only in terms of identifying the causes of the problem in order to fix it or prevent it from happening again. Also, blame looks backward, while problem solving centers on the present and the future. The blaming process also contains a huge emotional component. The "blamer" usually blames with anger, while the "blamee" reacts emotionally, often with anger, but also with defensiveness or trying to strike back or avoid blame.
It's probably clear to you why a focus on blame makes performance reviews ineffective. First, it creates emotional reactions in the person targeted as the as the one to blame. Second, blaming doesn't bring about solutions.